Tue Dec 20 '22 Announcement
12 months ago – Tue, Dec 20, 2022 at 11:46:16 AM
Hello Chosen of the Little Gods,
We're finishing up 2022 and finishing up our latest Exalted campaign, but more about that after our monthly check in.
REWARDS STILL PENDING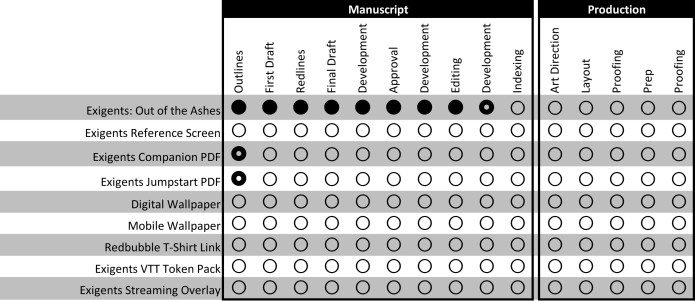 Our manuscript has moved through editing and is now in a final round of development, where the team ensures the voices are consistent throughout and all final tweaks have been made in anticipation of beginning art direction and layout. With that major task accomplished, I'm looking forward to some progress on our Stretch Goals as we move into 2023.
REWARDS DISTRIBUTED TO BACKERS
[Add On] Arms of the Chosen PDF
[Add On] Dragon-Blooded: What Fire has Wrought PDF
[Add On] Exalted Third Edition Core Rulebook PDF
[Add On] Lunars: Fangas at the Gate PDF
[Add On] The Realm
[Add On] Fiction Bundle 
[Add On] Music Bundle
If you added any of these items to your perk list during the campaign or in the BackerKit pledge manager, they should be available for your to access via links in your Digital Rewards page in BackerKit. You can also find your draft manuscript download link on the same page.

If you need to review your information or pledge status, you can return to your survey by clicking the link in your survey email or requesting your survey link under "Lost your survey?" on our BackerKit project page at https://exigents.backerkit.com/
SIDEREALS - FINAL 48 HOURS

The Sidereal Exalted are many things: Starry-eyed seers gifted with insight into the nature of fate. Elite agents of Heaven, troubleshooting threats to destiny in Creation and beyond. Legendary martial artists, whose secret techniques strike the soul and shatter reality. Celestial powerbrokers and intriguers who treat with gods as equals. Puppetmasters who steer the course of nations with a word in a queen's ear.
And yet it is their their curse to be forgotten by the world.

Sidereals: Charting Fate's Course is an expansion for the Exalted Third Edition tabletop roleplaying game. It's set in a mythic world where spirits walk openly among humanity, warring demigods topple kingdoms, and the restless dead roam on moonless nights. Heroes granted divine power contend against one another for the future of Creation. These are the Exalted!
Final days on Kickstarter! Click to Join In!
ONYX PATH PROJECT TRACKING
You can read Onyx Path's most recent monthly summary, covering all projects and their status up to that point here: <November Project Status Summary>
You can find the weekly Monday Meeting blog updates <here>, which note any projects with status changes since the previous Month End summary. The project statuses listed are current as of last Monday, so do check it out each Monday night to see if anything may have progressed!
I will continue to post regular updates every other month until the final Stretch Goal reward has gone out.
ONYX PATH DISCUSSION CHANNELS
If you've got questions about the rules or setting, or just want to discuss this game with other fans (as well as the Onyx Path writers and developers!), you can check out these Onyx Path discussion zones:
TO CONTACT JAMES
Via E-Mail: Onyxpath.ks [at] gmail.com
Via Indiegogo: Click "Ask A Question" under the Onyx Path logo on the main page; the message will come to me!
Via BackerKit: Click "Need Help?" from your page, and then fill in the Contact Us form. BackerKit will pass your message along to me.